'Indian' Dating & 'Indian' Matrimonial Sites*
Along with India-Passions (the site you are on now), the sites listed below all focus on connecting Indian singles. The sites listed below range from those focused on India dating to others focused on Indian singles chat. The primary goal is to connect people online. Each site, regardless of the company running it, shares many of the same characteristics as many of the other sites. So, if you are looking for a great dating site focused on Indian singles, then there are a LOT available. Look below to find the one that seems like the best fit for you.
AD

DesiKiss
"Meet Indian Singles Today"
DesiKiss is serious about connecting Indian singles in a respectful and fun manner. With over 100 (optional) questions ranging across interests, DesiKiss helps members identify other Indian singles they might find compatible. Sign up to see if the person you are meant to marry is online now.

India Chat City
"Chat With Desi Women And Men Day Or Night"
The first step in making a meaningful connection, assuming your connection is not 'pre-arranged' is to strike up a conversation. India Chat City has been designed specifically to connect Indian singles for fun conversation that hopefully leads to a real connection.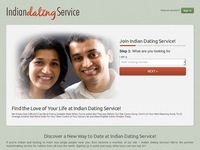 Indian Dating Service
"Find the Love of Your Life at Indian Dating Service!"
"Forget about relying on well-meaning 'aunties' and your parents to find dates and potential partners." If you're Indian and looking to meet new single people near you, then join Indian Dating Service, "the premier matchmaking service for Indians from all over the world".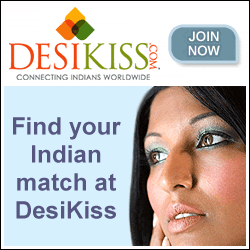 Shaadi - Matrimonial - Register for FREE
"Meet someone for keeps"
Shaadi is focused on connecting Indians interested in Matrimony. Members can browse by Mother Tongue, Religion, Community and more. If you are serious about finding a real and meaningful connection, Shaadi can help.

Meet Indian Singles
"Meet Indian Singles and Make a Romantic Connection Today"
"Dating for Indian singles has never been easier than signing up and gaining instant access to the profiles of online members with the opportunity to find the perfect love match. Interact with appealing members through online features including instant chat, webcam, video sharing and messaging services."
AD

Indian Interracial Dating
"Meet Indian Singles Who Date Interracially!"
If you are Indian and interested in an interracial relationship, or you are not Indian, but you are attracted to Indians, then Indian Interracial Dating has been tailor made for you. Connect with singles interested in connecting with you!

India-Date
Start searching 1000's of Indians in your area today!
"India-date.com is a dating site for English-speaking men and women in India who are looking to find love online. Whether you are in Mumbai, Delhi, or anywhere else, we are confident that you will find your match here!"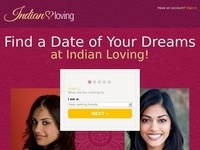 Indian Loving
"Find a Date of Your Dreams at Indian Loving!"
Indian Loving was made with love, of course! Turn to this online dating network to find an exceptional matchmaking service, able to pair you up with an Indian singles.
Indian Cupid
"Meet NRI Singles"
Indian Cupid is designed to connect Indian singles worldwide, whether they be NRI (Non-Resident Indians) or Indians residing within India. Basically, if you are Indian and you are interested in finding a connection, Indian Cupid could be the site for you.
AD
*Sites listed on this page are a combination of ads, affiliate related Sites and general non-partnership related sites that match the theme of India-Passions.